In Japan, we celebrate Christmas not as a religiously, it's also not a day of national holiday. However, Christmas in Japan is absolutely a fun, festive time of year. If you walked around Japan on Christmas Day, you wouldn't notice too much that's different or out of the ordinary. All the shops would be appropriately decorated and seasonal foods would be seen on advertisements, Christmas music would be playing.
Many of the things traditionally associated with Christmas – festive trees in the shopping malls, seasonal foods, Christmas music, and LED lights – make an appearance. And there are as well as a few unique traditions in Japanese Christmas...
Christmas Eve, for example, has become more important than Christmas Day in Japan... 
● How do we celebrate Christmas? - Go On A Date!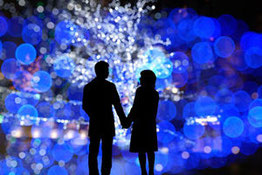 On December 24, Christmas Eve, become more important than Christmas Day in Japan.
If you're still a child you can still expect a gift from Santa Claus and spend a festive dinner with your family at home. But, once you're grown up, Christmas Eve in Japan is more about him and his wife, like Valentine's Day in the West. Japanese couples – especially young couples – like to book dinners at romantic restaurants, (and it can often be hard to find a seat.!)
● Lights, everywhere - admire the Christmas illuminations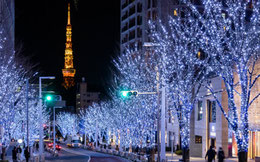 Christmas lights, or "Illumination" as it's called here, is a huge attraction during the winter season. Major malls such as Tokyo Midtown, famous landmarks like Tokyo Station are lavished with their own unique winter illumination displays. The streets of posh areas like Omotesando, Ginza and Roppongi Sakurazaka are absolutely stunning. And it's a great opportunity to take a walk and soak up the atmosphere. (If you want to read about that you can just read our articles "illumination".)
● Dine on Chicken - Christmas dinner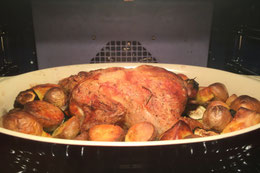 While roast turkey is the most popular Christmas meal in the UK, US and Canada, or Fish in eastern Europe, Japanese families usually celebrate with chicken.
In the early 70's Kentucky Fried Chicken ran a promoting called "Kentucky for Christmas!" (You will see Colonel Sanders in the Santa outfit at the shop front in this season.) The campaign was so successful and ever since, KFC's Chicken of festive buckets is popular for families.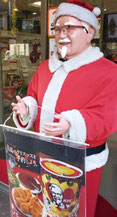 ● Eat Strawberry on a cake - Christmas cake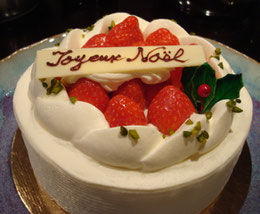 A Japanese strawberry shortcake is light and spongy with whipped cream filling and frosting,
which is much less sweet than other cake toppers. This treat is sold as 'Christmas Cake' in Japan (although it's also very popular for birthdays) and is a great way to celebrate the season with family and friends.
● Exchange Gifts - Christmas present
It has become commonplace for couples to exchange gifts on Christmas Eve, but rarely anyone else. Since Christmas is not a Japanese tradition, it's also not traditional to exchange gifts for the occasion. This may be because Japan already has a December gift exchange of its own, the Japanese work-culture tradition of oseibo, when coworkers exchange gifts.
Presents are more commonly exchanged for the New Year, which is a much bigger deal in Japan. (If you want to read about that you can just read our articles "oseibo".)