Ichi-Rin-Koh 一輪香
Send your message with incense fragrance!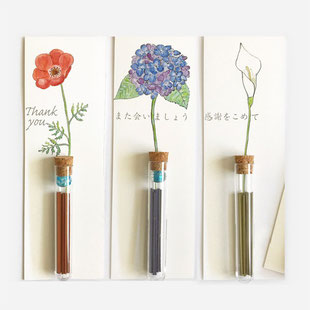 The new typed greeting card by YOU-YOU-ANG, a creative handmade incense manufacturer in Gunma, Japan.
The novel and cute set of greeting card with incense sticks seems like a lovely single flower in a glass bottle! 
SET includes of 8 short incense sticks, an incense stick stand, a message card, and an envelope.
Three Flower design: 
 1) POPPY - "Thank you" 
 2) CALLA LILY - "感謝を込めて" ("as gratitude for"/ "Mit Dankbarkeit")
 3) HYDRANGEA - "また会いましょう" ("Let's meet again!"/ "Sehen uns Wieder!")