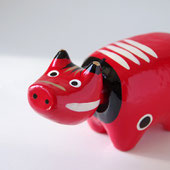 bobbing head's red cow

Happy to introduce the cute and classy toy come from Fukushima!
"AKABEKO" is a local toy in the Aizu region of Fukushima Prefecture with the legendary red cow as a motif.
"AKABEKO" is displayed in almost every home in the Tohoku region.
It's like an old-fashioned doll whose head swaying humorously, but it has become popular again recently.
[Manufacturer]  Nozawa Mingei/Fukushima, Japan