In early April, when the school year starts, all the students in a school gather for a formal ceremony welcoming the new students.
In a typical ceremony held in the school gym and the principal of the school makes some opening remarks, encouraging the new crop of students to have an enjoyable and rewarding experience in school.
Afterwards, the new students are led to their classrooms by their teacher, who explains what they can expect in the year to come. Text-books are handed out, and commemorative photos are taken on a class-by-class basis.
Many of the parents of the new students attend this ceremony, often dressed formally.
The ceremony marks a new period of the students' lives, as they are now in a new school and at a new stage of life.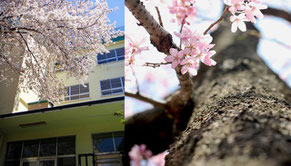 Most schools hold graduation ceremonies at the end of March, which is around the same time the cherry trees on Honshu Island begin to bud. These buds swell little by little, and, at the beginning of April the cherry trees planted around school grounds are in full bloom by the time entrance ceremonies are held and the new school term begins. Therefore, for many Japanese people, cherry blossoms are often symbolic of being promoted, going up a grade, entering a school, or entering the world as an adult member of society.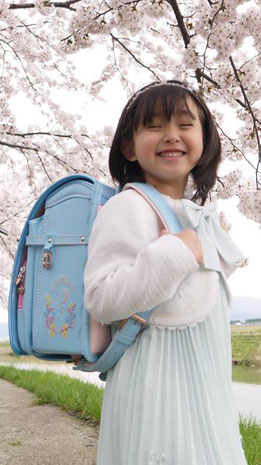 "RUI-chan" at the school entrance ceremony. (See the blog post on March 15, 2017, she graduated from kindergarten last year.) With a great big smile, she carries her new school bag (called "randoseru") on her back!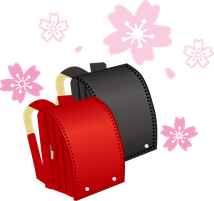 Grade-schoolers across Japan carry leather backpacks called "randoseru" (ランドセル). Traditionally, kids have carried one of two colors: black for boys, and red for girls. In recent years, however, that's changed, there are several other colors variation.