---
Japanese Traditional Craft "Raden" - Made in Toyama, Japan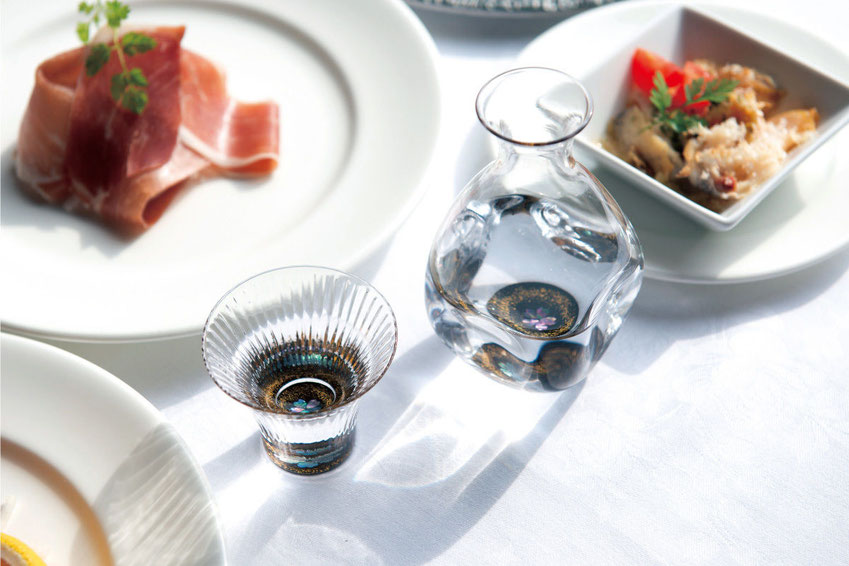 the mysteriously radiant fragments set in the deep glossy black/red of urushi  !  lovingly polished bits of seashell
Said to have originated in Nara in the 7th century, raden is the decorative craft created by setting iridescent parts of seashells like abalone, turban shells, and pearl oysters, which are shaved very thinly, into lacquerware. Ra means a spiral shell and den means to decorate. The technique was conveyed to Japan from China about 1300 years ago, and marvelous examples can be seen at the Shoso-in Treasure House in Nara as national treasures.
The seashell used for raden is classified as either thin or thick. Thin shell pieces are obtained by rubbing with a whetstone or simmering and peeling off the shell surface. They are no more than 0.1 millimeter in thickness. Gold or silver can also be applied to the reverse side of the shell so that it seems to glow from within.
Thick shell pieces are made by rubbing seashells flat with a whetstone, and approximately one millimeter thick. The special beauty of raden comes from the contrast between the jewel-like luster of seashells and the deep tones of the lacquer.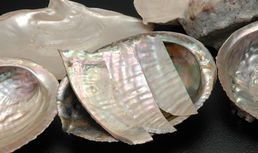 【 mother of pearl 】
Raden (mother of pearl) glass What is Raden (mother of pearl)?
Raden is a distinguished traditional crafting technique since the Tenpyo period, and were deeply valued and preserved in the Soshoin treasure house of Todaiji temple in Nara. This crafting uses abalone shellfish that has iridescent shimmer of a rainbow (as shown in upper right picture). The abalone is cut into about 0.1mm of thin strips with sword and needles, then combined together to create luminous landscapes, birds and flowers. This graceful and elegant design is a typical technique of the Takaoka Japanned-ware and were designated by the country as a traditional craft in 1975.
Raden technique is usually applied to wooden materials such as Buddhist altars, tableware, and traditional Japanese ornaments but "raden glass" literally applies raden to glass. At Amano Shikki, a team of  craftsmen produces all elaborate masterpieces in their workshop in Takaoka, opening up the possibility of a completely new lacquerware. 
The clarity and rigidity of the glass materials give the lacquer a clear image and highlight the rainbow-like shell. The pattern of the mother-of-pearl, reflected on the glass surface, and emerges in the poured sake. The shimmering with the fluctuation of the liquid is really fantastic. 
Though a bit more pricey than typical glassware, these are sure to be as treasured in the future as they have in the past.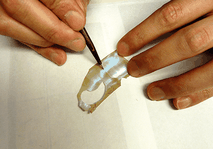 1. Pieces of the shell are cut out with a blade. 
2. Japanese lacquer is applied to the reverse side of the shell and it is affixed to the piece.
Manually paste the screw from the back of the glass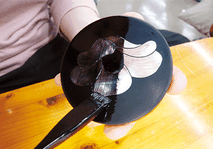 3. Another coat of lacquer is applied and the piece is polished down to expose the shell.
Coat lacquer many times with brush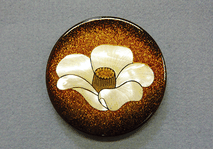 4. The piece is further decorated with maki-e, the surface is burnished, and it is complete.
from HP)
The beauty of translucent yet hard glass Materials, holds various expressions through lights and echos with brilliant resonance. Applying Raden (mother of pearl) technique onto this glass Materials, and adding a finishing touch of lacquer creates "Raden glass". The beautiful iridescent shimmer of a rainbow and the warmth of lacquer is a fusion of Japanese and Western, as well as a combination of traditional and modern refinement. Please enjoy this mystique glimmer of Raden glass while sipping Japanese sake.
We are chasing new possibility of the lacquerware based on the traditional technique of making Takaoka lacquerware, and would like to suggest to actively use lacuerware matching with a modern lifestyle.
http://www.den-japan.com/project2.html
DEN Project"DEN" , the brand name of our proud lacquerware applying Takaoka's traditional craft having lacquer and mother- of- pearl.This project has been initiated with the theme that the traditional lacquertechnique familiar since ancient days should be recreated in the modern industrial arts. Inviting design director Satoshi Umeno to our team, our technique has developed the production method keeping the taste of Takaoka's lacquerware and furthermore our products are made of domestic woods and are finished by craftsman s careful handwork. And Takaoka's unique technique of mother- of- pearl is focused too for production of glasswares. Our brand "DEN" will continuously offer the wider range of modern lacquerwares which can be loved by everybody eternally.
Raden Glass
Raden glass is suitable for a modern lifestyle due to its translucency and warmth of the glass, and mysterious brightness of the abalone shellfish.
☆ RADEN Sake bottle & cup set
Sake bottle and cup set with Raden works.
Sake bottle has dents that fits nicely onto the palm of your hand and also will bring out the flavor of your alcohol. The artistic design that combines JAPAN lacquer and glass.
[color & motif variation]
   Art.-A) Vermilion / gold,  cherry blossom  
   Art.-B) Black/ gold, cherry blossom
[contents]
   1x Sake pitcher, 1x Sake cup
[material and coating]
   glass, URUSHI lacquer, abalone shell 
[size (approx.)]
   ●Sake bottle: Ø 77 x H. 115 ml / capacity 210 ml
   ●Sake cup: Ø 64 x H. 54 ml / capacity 50 ml
[Packaging]
   Gift box (W. x D. x H. mm, ca. g)
[Manufacturer] AMANOSHIKKI Co., Ltd./Toyama, Japan
↓select
RADEN Glass SAKE Set
Lieferbar innerhalb von 1-3 Werktage *1 / Ships within 1-3 working days *1
NOTE
- "MASU CUP" is made of natural wood, not have the same wood grain and color.
- Not suitable for the dishwasher, microwave oven or heating
HINWEIS
- "MASU CUP" : Aufgrund von Naturprodukte, leichte Abweichungen von der Abbildung sind möglich.
- "MASU CUP" und "SAKE GLASS" :  Nicht geeignet für Spülmachinen und Mikrowelle.
Takaoka Lacqueware was first made in 1609 when Toshinaga Maeda, the second load of the Kaga Domain, built Takaoka Castle in Takaoka city. He ordered to make arms and armor, drawers, and low dining tables. After that new techniques such as tsuishu (堆朱) and tsuikoku (堆黒) were introduced by China. Also various techniques such as chokoku-nuri (彫刻塗), sabie (錆絵), raden (螺鈿), and zonsei (存星) which look solid using a variety of lacquer colors were produced, and those techniques developed Takaoka Lacquerware and made it famous.
These techniques took root as townspeople culture and had a progressive development due to the traditional festival in Takaoka where gorgeous festival cars called mikurumayama (御車山) have used and decorated with them.
In 1975, Takaoka Lacquerware has been nominated as traditional crafts of Japan.
The spectacular decoration technique in Takaoka.
"Raden" has developed as one of the lacquer decoration techniques in the Takaoka area, which decorates the surface with mother of pearl seashells. What differentiates them from others is that incredibly thin seashells used and the gradations appear on the surface by the layers of colors.
Emperor Maeda also started making Takaoka-Shikki (Japanese lacquer ware). Chinese techniques such as "TSUISHU" and "TSUIKOKU" were incorporated into Takaoka-shikki and so Takaoka city become famous for its beautiful Japanese design of Takaoka-Shikki products. 
The design techniques were then also used in the building of products traditionally used in local festivals, and so became part of the local culture. Takaoka-shikki (Japanese lacquer ware) was officially recognized as "traditional craft" in 1975.
---
Amanoshikki Inc.
Greeting
Company
Exploiting our traditional technique of Takaoka Lacquerware which has been cultivated since our inauguration in 1892, we have been dedicating to design products matching modern life. We also develop our products always keeping in mind to put ourselves in the customer's shoes. Ordering custom-made is available to be bought from one product. Please feel free to contact us if you need any further information.
Company History
Our company was established with 10,000,000 yen in 1892 by Tatsujiro Amano as Amano Tatsujiro Store Co., Ltd. In 1971 it was incorporated as Amano lacquerware Co., Ltd. Now we have six employees to manufacture and sale of lacquerware and work on any business associated with the above. 
Ohashi Ryoki, a company specialized for over 60 years in the manufacturing of traditional hand-crafted Masu cups.
It is located in Ogaki city, Gifu Prefecture, which accounts for about 80% of the production of masu cups in Japan,
also a major manufacturing center of Hinoki (cypress) lumber.
They developed a range of contemporary products inspired by masu cups made of Japanese Hinoki cypress.
This allows us to offer traditional masu cups as well as modern products such as the Eco humidifier, 
colored or variant formed masu cups. 
---