DARUMA Doll 11cm in 4 colour
Classic Takasaki Daruma for luck and good fortune using skills and techniques cultivated in doll crafting. Painted with symbols of longevity - cranes for the eyebrows and tortoises for the mouth and beard - Daruma dolls are considered to bring good luck. One makes a wish when painting the left eye and when the wish is granted, the right eye is painted in.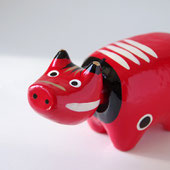 AKABEKO - bobbing head red cow

Cute and very popular folk toy "AKABEKO" is back to stock!!
Old-fashioned doll swaying humorously his head, but it has become popular again recently.
A local toy in the Aizu region of Fukushima Prefecture with the legendary red cow as a motif. 
[Manufacturer]  Nozawa Mingei/Fukushima, Japan
---