* AE5251 Petty Blade length 120 mm
Seki-Magoroku Premium sereis "10000CL"
An elegant knife has been newly added to the Seki Magoroku Premium Line, which is reminiscent of the beautiful sharp cuts of Japanese swords.
The "10000CL Composite" series features lines flowing over the blade and natural colored wooden handles.
The blade is combined with different types of steel. This composite joint technology is known to be used in the construction of aircraft. The cutting core uses Japanese high grade carbon steel "Cobalt Special", making it a popular model with high cost performance.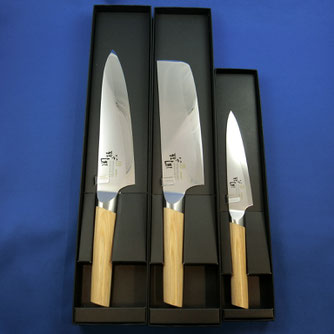 3 blade types:
Gyuto    AE5255 / blade length  180 mm
Nakiri     AE5257 / blade length  165 mm
Petty      AE5251 / blade length  120 mm
*All the knives have a double-sided edge.