No.1) Coffee cup pair set "Yoshidaya" - Tipical Kutani ware design "Yoshidaya-style"
This elegant coffee cup set, adorned by beautiful camellia fowers over a warm porcelain foundation. The accompanying cherry blossom shaped plate is impressive in its own right and pairs perfectly. 
*Coffee cup Pair set "Yoshidaya Camellia"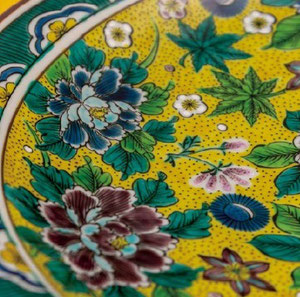 WHAT IS YOSHIDAYA-Style ? - 吉田屋風
KUTANI Yoshidaya Style:
This style uses the kiln in which Yoshidaya Denemon aimed to use it at revitalizing Kutani in 1824. It is a style that followed the painting style of Aode Kutani.
The style does not use red, but mainly uses four colors, blue (green), yellow, purple, iron blue and various patterns and small patties, filling the whole surface characterized by a solid feeling style.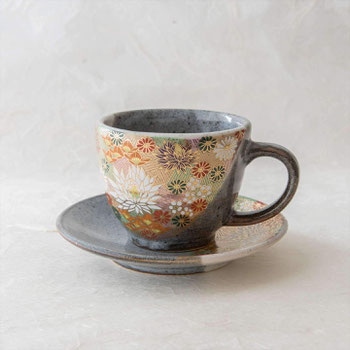 No.2) Coffee cup "Hanazume" Popular Kutani design
The feminine "Hanazume" design (Golden Floral Drawing) are applied on the warm porcelain foundation. The beautiful flowers are trimmed in gold to make them shine even brighter. Enjoy your tea time in this gorgeous cup!
*Kutani Coffee cup & Saucer "Hanazume" gold floral