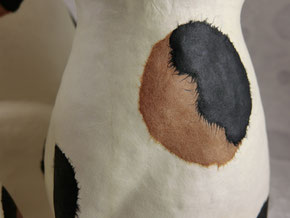 Handmade HARIKO "CATS" - warm and cozy decorative dolls
Original Hariko dools by hariko artist KIYOSHI AOKI from Nagano.
The process of making his cat has been almost same as traditional hariko dolls. Each figurine is hand created from a clay mold, and additionally, pasted on it multiple layers of washi paper that is teared into small pieces by hand. These are not colored into, and the pattern of the cat's body is expressed in the natural color of Japanese washi paper.
[Manufacturer] Hidamari Nora/ Nagano, Japan
There are 2 types of cats a bicolored and a calico, and each in 3 sizes about 31 cm, 23 cm and 14 cm tall. They looks similar at first glance, but if you look closely, there are slight differences in shape and expression. Each piece has a unique taste, and brings a warm and cozy atmosphere.