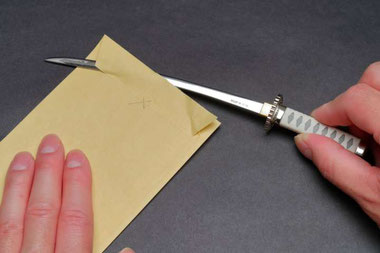 "Katana Letter Opener" is a paper knife with a Japanese sword "katana" motif. It is a commodity made with particular attention to detail. Quality of its sharpness is amazing since it is handmade by experienced craftsmen in Seki city, Gifu Prefecture which renowned for its samurai sword-making history.
Besides using as the letter opener, it is a good looking decoration that feel a sense of fun!
 ● Model No. 1) Kondo Isami                               ● Model No. 2) Okita Souji                                  ● Model No. 3) Saitou Hajime 
two-tiered display stand allowing you to keep the sword sheathed or place the scabbard on a different level of the rack so that you can admire the naked blade as well. 
◆ KATANA Letter Opener with single sword stand (upright standing)   ⇒ go to SHOP
● Model No. 4) Oda Nobunaga
 * motif is Oda Nobunaga's beloved sword "Heshikiri-Hasebe".  ( ↑ the signature "圧切長谷部" printed on the blade.)